Site
Machines
Parts & Consumables
Documents
More
Rent Nobles Equipment
Whether you need machines for a short period of time or want to supplement your current fleet, consider renting Nobles or Tennant equipment for your commercial and industrial needs; inside and outdoors. Some of the most popular reasons for renting cleaning equipment include:
Commercial construction cleanup
Backup for existing equipment
Cleaning for open houses
Post-event cleanup
New project start-ups
Seasonal cleaning
Budget constraints
Time sensitive need/sense of urgency
Popular Equipment Rentals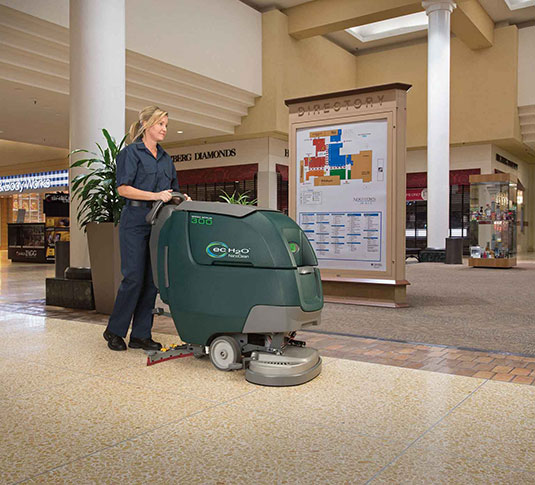 Cover large areas and get optimal water recovery with a range of rental scrubbers including riders, micro riders and battery-powered machines.
Clean in tight, confined spaces efficiently with compact walk-behind scrubbers.
Reduce costs with exclusive Tennant chemical-free ec-H2O™ technology.
Extend scrubbing time by recycling cleaning solution with our ES® Extended Scrubbing technology.
Reduce water and detergent use with our exclusive ec-H2O NanoClean® technology and FaST® Foam-activated Scrubbing Technology.
Keep noise-sensitive areas clean and safe with machines featuring low sound levels.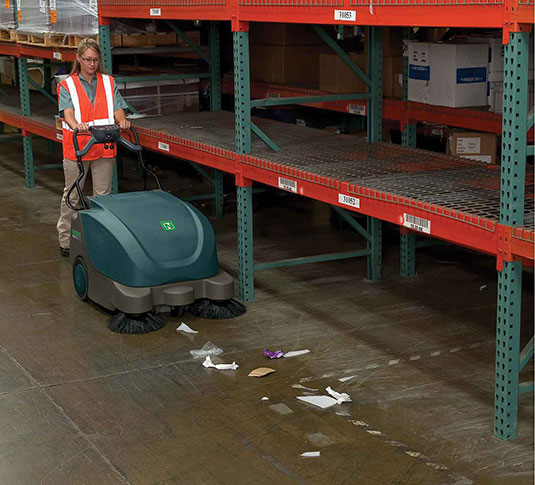 Choose from a full array of Nobles and Tennant rental sweepers including walk-behind sweepers and full-size, mid-size, compact and sub-compact rider sweepers.
Capture everything from cement dust to heavy debris with a Tennant rider sweeper.
Pick up debris indoors or outdoors with a walk-behind sweeper.
Get exceptional dust control with additional configurations such as Tennant's exclusive SweepMax® dust control system and ShakeMax® filter shaker system.
Reduce operator training time with easy-to-use, ergonomic controls and simple maintenance.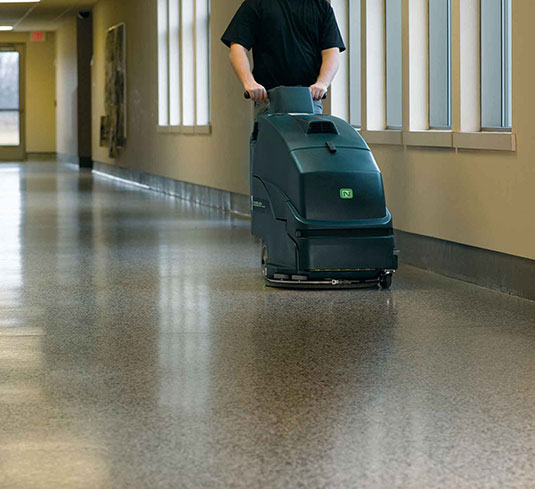 Give your floor the ultimate high-gloss finish with a Nobles commercial burnisher.
Scrub, polish and strip almost any floor, even those with uneven surfaces.
Restore tile, grout and other hard surfaces to original condition with multi-surface cleaners.
Remove finishes safely without chemicals — even in hard-to-reach areas — using Nobles and Tennant Orbital® floor machines.
Protect air quality using a battery-operated burnisher with active HEPA dust control air filtration. 
Find the ideal extractor for any environment from Nobles and Tennant's line of portable, walk-behind, rider and dual-technology carpet extractors.
Deep clean carpets and remove tough soil with heavy-duty carpet extractors.
Clean confined areas like classrooms, office buildings, hospitals and restaurants as well as open spaces with mid-size extractors.
Easily clean under and around desks, beds, and other obstacles with low-profile machines.
Clean and dry carpets in minutes using Tennant's exclusive ReadySpace® Rapid-Drying Carpet Cleaning Technology.
Reduce risk of mold, bacteria and odors with our Hygenic® solution and recovery tanks.
Choose from a complete line of upright, backpack and canister vacuum cleaners to clean almost anywhere, from tight spaces to wide open areas.
Extend the life of your carpet with Nobles/Tennant vacuums CRI certified to effectively remove soil.
Improve indoor air quality with standard HEPA filtration that traps fine dust particles.
Rely on durable major components proven in commercial applications.