For the best site experience, please use Chrome, Safari, Edge, Firefox or another modern web browser. Internet Explorer is no longer supported.
Save time, money and water when you use TennantTrue® brushes designed specifically for your Tennant, Nobles and Green Machines. Maximize performance by replacing brushes when needed with long-life, TennantTrue® brushes. TennantTrue® disk and cylindrical brushes feature unobstructed solution and drain holes for reliable cleaning performance and optimal bristle length and stiffness for any floor surface. Look for Insta-Fit™ Adapter models to simplify disk brush changes, requiring less time and effort to change out, while increasing confidence in proper installation.
Ensure ideal operation of your machine and its scrubbing and sweeping brushes by choosing a TennantTrue® Brush that has been ideally designed for your machine's down pressure, speed and water flow — as well as your cleaning environment needs. Other manufacturers may say their brushes "will fit" Tennant machines, but they cannot promise the same quality, fit and performance as TennantTrue® Brushes.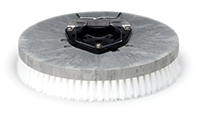 Disk Brushes
Look for disk brushes with debris and grit flushing drain holes to protect the drive plug and disk brush bristles set nearly perpendicular to the cleaning surface for more effective cleaning. TennantTrue® Disk Brushes let cleaning solution flow through holes in the machine drive plug and brush drive adapter, so it spreads across the working surface of the brush.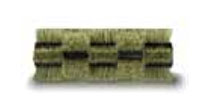 Cylindrical Brushes
Ensure smooth operation and prevent excessive machine wear with balanced TennantTrue® Cylindrical Brushes — manufactured to the industry's tightest standards for straightness, roundness, wall thickness and fit. Tennant manufacturers cylindrical brush tubes with an extruded spline drive for the best fit, using maximum bristle length for long wear and securely anchors every bristle. Look for patented TennantTrue® sweeping brush designs: sand wedge and window brush.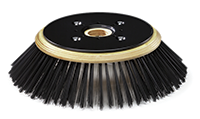 Side Brushes
Reach into corners and around edges, pulling debris in front of the sweeper for pick up by the main brush, using round, flared TennantTrue® side brushes. Tennant uses a specific flare angle that provides maximum reach without compromising stiffness.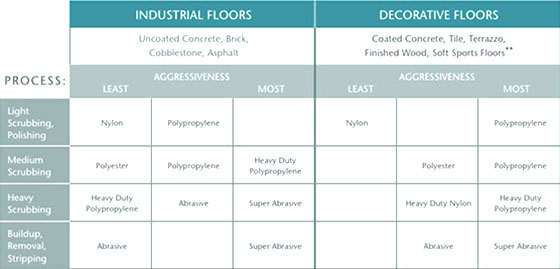 TennantTrue® brushes are designed for easy installation, but if you have additional maintenance needs, you can count on TennantTrue® Service. We have factory-trained, local Tennant service representatives ready to diagnose and fix your problems quickly.